What is Universal Design?




Universal Design are those home design features that make a home safe and comfortable for everyone, young or old, whether they have a disability or not. It's making a home for all ages.

Lifestyles Design approaches Universal Design as "common sense" design. We strive to make a space function as good as it looks for the homeowner, visitors and family members for an extended period of time, with consideration for lifestyle changes.

Some common examples of Universal Design that are easy, low cost projects include installing lever hardware on doors, lowering light switches and making at least one door into the home have a no step entrance. When planing an addition or building a new home add a first floor bathroom and bedroom.

Lifestyles Design can help you plan for your needs, now and for the future.

At Lifestyles Design we believe that there is always a way to rethink a space to make at least part of that space incorporate features of Universal Design, and to be useable by most people in the household. Budget and space are always in limited supply.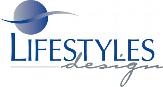 612 Erb Road | Perkiomenville, PA 18074 | ph: 610.754.1444